The main reason why Facebook Ads do not run is if, its pending approval, the Ad is set inactive, the Ad Set is inactive or the campaign is inactive. However, if you have confirmed that all these are okay then the issue could be that your budget is too small or you are targeting too narrow. Sometimes, you could be violating Facebook policy and the Ad got rejected.
It is common knowledge that the most critical part is getting Facebook to approve your Ads. What I came to find out is that there are more factors involved that one has very little control over. This is exactly what we will discuss in this article and find out how to fix such issues that could sabotage the success of your Ads.
How Does Facebook Determine Ads to Run?
Every Facebook advertisement goes into an AUCTION before anybody ever observes it.
If your response to that is ' What is Facebook Auction?!' This could be one of the fundamental reasons your ads are coming up short…
It is important to understand the bidding process so that we can be able to know how and what type of ads to run for your campaigns.
Your ads go into a bidding process, not simply with other contending promotors in your area, but also countless different promoters who are focusing on your niche.
It could be they are targeting to promote the same product or different from what you are doing. That is the reason you will need to stand out from the crowd and give your best.
Facebook utilises a recipe to choose which ads will be appeared and to who – this, therefore, is the means by which Facebook computes whether your promotion will be appealing to a client.
Therefore, Facebook uses this formula below to show Ads
𝐀𝐃𝐕𝐄𝐑𝐓𝐈𝐒𝐄𝐑 𝐁𝐈𝐃 𝐗 𝐄𝐒𝐓𝐈𝐌𝐀𝐓𝐄𝐃 𝐀𝐂𝐓𝐈𝐎𝐍 𝐑𝐀𝐓𝐄𝐒 + 𝐔𝐒𝐄𝐑 𝐕𝐀𝐋𝐔𝐄 = 𝐓𝐎𝐓𝐀𝐋 𝐕𝐀𝐋𝐔𝐄
☎️ BID 💸
This is quite clear – it depends individually on a bid procedure and the spending that you set.
A great many people leave their ads on auto-bid, however, FB advertisers – particularly when endeavouring to scale campaigns – will play around with the other alternative of manual bidding, which I wouldn't prescribe for amateurs.
You will really need to know what you are getting into before getting into this manual bidding. Sometimes you may end up spending thousands of dollars without much results.
🎬 ESTIMATED ACTION RATES 🎬
Each adset in a promotion campaign is optimised for a different activity that you've picked, regardless of whether that is clicks, engagement, purchases, or any of alternate alternatives accessible to you. These variables take into account how likely the individual seeing the advertisement is to make that move that you've optimised for.
This is the reason, despite the fact that the audience measure you have chosen for an advertisement may be 800,000 individuals, if Facebook thinks just 80,000 of those individuals are probably going to click your promotion then it won't demonstrate it to the rest (consequently why the recurrence or number of times individuals see your ads will rise despite the fact that it hasn't contacted the entire audience).
This tells you one thing, the objective that you have chosen has a great deal to do with the ad being shown. I may be matching all the demographics that you have selected in the interest section, but if I am not likely to act in the manner of the objective chosen, then I will not see your ads.
Let's take an example, that I have a Facebook page with thousands of members. You know that Facebook will not show your posts to all of them except the last 50 individuals to interact with the page. That will mean that you will have to boost your post but specifying it to the people who like the page.
However, no matter how much you have to spend on the ad, not all the members will see the post. It will limit the boosted post to the people who are likely top engage based on your objective.
If you are looking to receive messages, Facebook will show the post to people in your page who are likely to reply and show them repeatedly.
Assessed activity rates are ascertained given an individual client's history of clicking/connecting with, and so on with ads and add your own particular verifiable advertisement information – so if your ads have a low CTR (Click-Through Rate), this is the place it will hurt you.
📈 USER VALUE 📉
This evaluates how much value your promotion is giving to the individual seeing it (and it's consequently you get punished for having messages excessively in advertisement pictures since this influences them to look nasty and like something that dropped out of a neighbourhood paper).
This must be the area that could have hurt my campaign above too. It had a lot of promotion on the image making it a bad target.
Client Value is the place Relevance Score (which you can see on every individual advertisement in Ads Manager once they've achieved 500 individuals) becomes possibly the most critical factor.
This is a RELATIVE metric which just measures how pertinent and drawing in your advertisement is contrasted with others focusing on the SAME audience.
It's likewise not the most essential thing in the world, but instead many individuals get excessively hung up on having high pertinence scores.
✅ If your ads are performing based on such measures, for example, regardless of whether your advertisement is prompting purchases/has a high CTR/low CPC, you can practically overlook pertinence score.
It's solitary a marker of how well your advertisement is focused on, something that can conceivably raise or lower the general expenses of your promotion.
The other factor in deciding User Value is Ad Quality.
This fundamentally implies if your advertisement is getting a great deal of contrary criticism (individuals x'ing out of it, announcing it as spam, clicking that they don't care for it) its value will be diminished.
Advertisement Quality additionally considers whether a man has generally been occupied with similar ads.
Things being what they are, and now that you know the recipe, how does the sale procedure really function?
When a client opens up their news channel, they in a flash see ads.
The sale starts, Facebook institutionalizes the consequences of the recipe above to represent different occasions (i.e. I may focus on an audience with a lead generation advertisement while you may focus on a similar audience for a click), the aggregate value is computed and after that the triumphant promotion with the most elevated aggregate value is indicated.
Entirely shrewd how Facebook does all that (and besides choosing which posts from companions, family and different business pages to indicate you) in a matter of seconds, would it say it isn't?
Presently, how might you utilise this information further bolstering your good fortune? By employing the second 50% of the equation above to beat promoters with open wallets who are bidding higher than you!
Guaranteeing your ads have high calibre and pertinence implies that you can beat individuals in the sale regardless of whether they are set up to pay more than you, which is something of a leveller if you are going up against greater organisations and brands.
In my scenario, I was going against top established e-commerce such as Jumia, which has a deep pocket and most probably would place higher bids than anyone. So my solution to counter this is to produce the best content that would give user value and increase Ad Quality.
This is an extraordinary aspect concerning Facebook Ads; any business, regardless of how vast or little, can discover accomplishment on the stage.
It just takes a touch of diligent work and, indeed, an interest regarding cash.
I'll wrap up here with a response to the last inquiry you've presumably got – how does Facebook choose the amount you are charged for your ads?
The Total Value computation above figures out who wins the sale, yet not the cost.
Mostly, the manner in which it works is that all you are charged is the base sum that you would have expected to bid to win the bartering.
Here's an exceptionally simplified case of this in real life (not considering User Value or Estimated Action Rates):
Publicist 1️⃣️ bids $ 0.25
Publicist 2️⃣️ bids $ 0.50
Publicist 3️⃣ bids $ 0.50
Publicist 4️⃣️ bids $ 5
In the closeout, Advertiser 1 is probably going to get not very many impressions of their ads. 2 and 3 will get a decent number of their ads appeared at costs somewhere close to $ 0.26 and $ 0.50. Publicist 4 will get considerably more impressions – yet rather than paying the full $ 5, they will most likely come in at somewhere close to the $ 0.30 to the $ 0.75 territory.
When in doubt, this implies you are charged short of what you really bid.
It additionally implies that it's relatively futile making little bids like Advertiser 1 as you will wind up losing biddings that you could eventually have won for just a minor piece more.
It's consequently that the base most Facebook publicists will spending plan an Adset for is £5/$5 every day, or else they will pointlessly lose barters.
Why are my Facebook ads not having impressions?
In fact, I do not recommend that you make more than 2 ads at the same time, in the same set of ads. Invariably, you will see that only one of your ads receives all the action, so you will not even have a sense of which copy or image works best, if they are never displayed.
Basically, there is a stronger ad survival element occurring within each ad set. This is what usually happens:
Facebook starts delivering your ads to people in your audience, more or less at the same pace.
As soon as one of your ads starts generating clicks, the system automatically takes note.
That ad starts having more impressions. Facebook notes that it is the one that people are responding to best, so it shows it to more people (yes, Facebook is in fact trying to help you and giving you the best possible results).
The other ads as a whole stop receiving impressions in their entirety, and "the strongest" becomes, in essence, the only one that is displayed.
Throughout the process, Facebook is optimizing other factors of your campaign at the same time. If you set your settings to show the ads both on desktop and mobile, that's how it all started. But, if your system sees that you are having more clicks and / or conversions on mobile compared to desktop, your ads will show more on mobile. If women aged 35 to 44 are responding better to your ads, you will have more impressions in that demographic than in any other.
Eventually, you can have an ad that is being viewed by a genre, or an age group, in a country, and on a single specific device.
That's why only one of your ads generates all the action. Unfortunately, it is very common for Facebook to do its "optimization" before there is enough evidence to declare a clear winner among your ads.
100 impressions and 3 clicks are not enough information to determine if an ad works for your audience, and even then, it happens all the time.
It's very frustrating, especially if you're trying to run several ads at once. Again, that's why I recommend just running two ads simultaneously – more about it in a second.
IMPORTANT NOTE: not all campaigns are optimized in this way.
In 20% -30% of the campaigns I've run, Facebook showed both ads equally to my target audience. It depended on me, determining the "strongest" and pausing the others. So, be sure to pay attention to the reports, both the simple ones in the Ad Manager and the more advanced ones, under Advertising Reports.
Why are your Facebook ads being rejected?
It is annoying and frustrating when Facebook denies an ad, the Facebook system is very sensitive and focuses on protecting consumers from ads that can be considered offensive. The problem with the system that Facebook applies is that, by denying your ad, it does not provide you with any information on how to fix or correct it.
Here we leave you some information to understand how Facebook decides what type of Ad to deny.
Facebook's policy is based on the following:
"Facebook ads must not contain content that affirms or implies personal attributes. Ads must not contain content that affirms or implies personal attributes. This includes direct or indirect statements or implications about race, ethnicity, religion, beliefs, age, sexual orientation or practices, gender identity, disability, medical condition (including physical or mental health) of a person, financial status, union membership, criminal record or name. "
Some examples of copies related to different topics:
Race
Approved: MeetHispanic Men Online Now
Approved: Find Black Singles Today
Denied: Meet Other Black Singles Near You
Religion or philosophical beliefs
Approved: Meet single Christians
Approved: Are you looking for Buddhists near you?
Approved: Meet single Hindusonline now
Denied: Meet other Buddhists
Denied: Are you a Christian?
Years
Approved: Meet older people
Approved: A service for teenagers
Denied: Meet other older people
Denied: Meet other Buddhists
Sexual Orientation or Sexual Behavior
Pass: Atlantis Gay Cruises
Pass: Gay dance clubs
Pass: Gay Dating online now
Denied: Are you gay?
Denied: Meet other lesbians now
Gender identity
Approved: Come meet transsexual singles
Approved: A monthly meeting for trans people
Denied: Questioning your gender identity?
Denied: Meet other trans women at our monthly meeting
Disability or medical condition
Approved: Bulimia counselling available
Approved: Depression counselling
Approved: New diabetes treatment available
Denied: Do you have diabetes?
Denied: Does depression make you fall? Get help now
Denied: Treat your anxiety with these helpful meditations
Financial statement or information
Approved: We have financial services to cover all financial needs
Denied: Bankrupt? Ruined? See our services
Trade Union Partner
Approved: Bepart of our union today
Denied: Don't you like your union representative? Join us today
Criminal record
Approved: Services to clean up any criminal record
Denied: Are you a convicted criminal?
First name
Approved: We print personalized shirts and stickers with your name
Denied: Billy Taylor, get this shirt with your name printed


conclusion
In the examples above you can see how Facebook does not want advertisers to use personal traits of anyone against them. So how can you make sure your ads are approved? Follow these guidelines:
Avoid using the word "you." This explicitly implies that you are trying to identify the recipient of the message.
Focus the content of your ad on the product or service you are trying to advertise. Talk about benefits and value! and don't try to challenge the recipient.
Avoid using the word "other" or "others." This indirectly groups users into user groups like them.
Likewise, Facebook robots are tricky and often block for many reasons, so relax, relax and check your copies, images or videos again.
The right way to test your creative
Small changes really CAN make a big difference.
In some campaigns, it seems that no matter how much you try, all the ads have a very high cost for you.
But, you should not give up, try to insist and find the "magic formula", sometimes a slight change in texts and images can reduce the cost of the ad by 50%.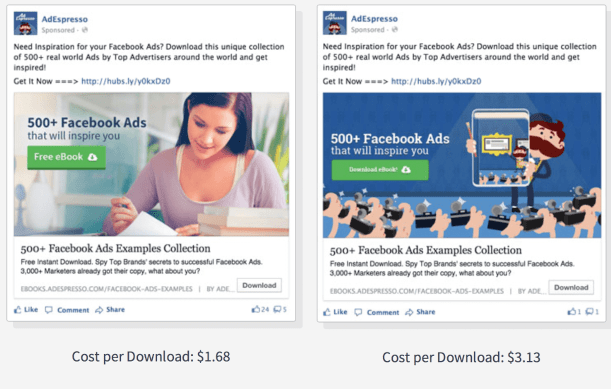 In the image above you have a good example of how small changes can cause a large reduction in your advertising costs.
In conclusion, Facebook is only going to show your "strongest" ad.
So there you have it, now you comprehend significantly more about how the Facebook ads functions and how you can receive the best in return.
A debt of gratitude is for reading this long article, and I wish you the good luck in the entirety of your future Facebook advertisement endeavours! Any inquiries, ask below.