When starting an online business, one of the key elements is having products to sell.
So;
how do you get the products?
where do you find them?
how do you know if they will be sold?
and how do you take them to customers?
In the vast world of entrepreneurship on the Internet, there are many answers to all those questions.
You could create your products, but that process can take a long time.
Or you can buy in bulk from a manufacturer and then send products to your customers as they buy.
But that is an expensive solution, and you have to run the risk of investing that money in buying stocks and not having sales.
There is a solution that allows you to avoid all these inconveniences.
And it makes the entire startup process of your online business more manageable. This method is called drop shipping.
It has taken the online business world by storm.
This fast shopping business is one of the easiest and least risky ways to start an online business.
Take a look at how to start a dropshipping business, how the dropshipping model works, and the key things you should know before you start.
The table below can help you with your decision-making process and provides an overview of the advantages and disadvantages of starting your own direct shipping business.
What are the Advantages of dropshipping
Sell almost any product, in any niche.
Use a proven business model, which is even used by large retailers like Amazon.
It is not necessary to store any inventory.
No need to pack or ship products
No initial capital is required.
What are the Disadvantages of dropshipping
Expensive handling or delivery costs that consume profits
Not all companies are willing to leave.
Direct senders must provide you with accurate inventory numbers, so you don't sell items if the sender is not sold out.
Some direct shipping providers have inconsistent service, slow shipping times or complicated return policies
Starting a dropshipping business
Estimates vary, but industry observers have discovered that between 20 and 30 percent of online retailers use direct shipping.
So it is a proven business model, and you will be in good company if you follow this route.
Even large retailers like Amazon use direct shipping.
With direct shipping, you can sell almost any product in any niche.
The benefit of sending someone else's products means that you do not have to deal with the inconvenience of traditional companies, such as:
store your products (it can be costly to buy large quantities of inventory and rent warehouse space)
pack or ship products, prepare orders and package them several times a day and go to the post office
having to put your money in advance to buy wholesale products to resell, which you are not sure about selling

When you run a business through direct shipping, avoid those problems and the possible loss of any initial capital investment.
Now that you've taken a look at the benefits of a direct shipping business, here's how the direct shipping business model works.
How Drop Shipping works
With dropshipping, you work with a wholesaler or distributor that offers this service.
Not all manufacturers and wholesalers provide direct shipping, but many do.
You manage all the marketing for your business.
This means that you set up your website with a shopping cart (or set up a virtual storefront on Amazon), write your blog, perform social media and email marketing, and in any other way you can contact your prospects and customers.
He will tell you all about the products and use his sales skills to tell you how the products will improve their lives.
Essentially, you do all the marketing, advertising and promotion to get customers and make the sale.
When the time comes to send the product and fulfill it, this is where the direct sender takes over.
The direct delivery company has the inventory in its warehouse.
You send to your drop shipper the incoming orders, paying the wholesale price of each order.
This can be done by email, sent online, or through a spreadsheet file; It depends on the sender.
The direct shipping company places the order and sends it directly to your customer.
Not including price details or information about the supplier, so that the customer believes that the package came directly from you.
Direct shipping companies charge a fee for this service.
Each company is different, but usually, it is approximately $ 2 to $ 5 per item or order and is often called a handling fee or shipping fee.
That is above the wholesale price of the product itself and the shipping cost, which adds up.
However, you can still make a profit as a dropshipping business, despite the most exceptional margins.
If you want to increase your earnings, you can improve your prices, at least as much as your market will support.
You can also sell more volume. And you can always contact your direct sender to negotiate a lower driving rate.
However, remember that you are not risking your money in advance. You are only paying these fees if you sell a product.
What products can be dripped?
As with any online business, you want to be in a market that is "hot" and where there are a lot of people ready to buy the products you sell.
In the best case, the niche in which you specialize should also match one of your interests.
If you are passionate about a particular market or type of product, that enthusiasm will make your marketing efforts and, by extension, your business stronger.
Not only that, but you will enjoy what you are doing, which will make your work feel more pleasant.
Fortunately, there are dropshipping companies that work with almost all markets, niches, and types of products.
This includes baby items, yoga clothes, electronics, clothing, art, books, beauty products, supplements, home and garden items, and more.
A great place to check for hot niches are the great online e-commerce platforms like Amazon.
Whatever item is on the bestseller lists, it could be a great option for direct shipping business.
But also watch the trends you see on Facebook and other social networks.
Also, look for products that are in the news and listen to the products your friends and family speak about.
During the holiday season, football season, back to school and other special times of the year, related products can work very well.
A big mistake that many people make when starting any type of business, including direct shipping, is that if they see other people doing it, they think it is too competitive and cannot make money from it.
Could not be farther from the truth. If you see a lot of competition, that is the sure sign of a large, healthy and profitable market.
Choosing a Drop Shipper

Before starting to work with a direct sender, carry out the order process yourself from the customer's point of view.
It is important to see how easy it is to order the product, how long it takes to ship and how the direct sender handles any returns or problems.
Ask potential shipping senders how they will notify you of their inventory levels for each product.
If you sell an item to a customer but the delivery loader has run out, this can cause you a great dilemma and create angry customers.
This will also give you the opportunity also to see the quality of the product.
Make sure that the products have the level of quality that you will be proud to offer your customers.
In some cases, drop shippers will be willing to send you a complimentary product for evaluation or at least sell it at your cost.
If you are in a niche and have used other similar products, you can try the product yourself.
Use it, study it, and see if it meets the promise.
Is it made of quality material or ingredients? Check the reviews of others online to see if your experience matches.
If you are not in the niche, ask a friend or family member to try the product.
Also, do your research by thoroughly reviewing online reviews and forums in that niche to see comments from users and related Facebook groups.
Knowing the product will also help you sell it, making its marketing much more authentic and valid.
What is the best dropshipping company?
Here are some of the leading delivery shippers and operational delivery shipping directories today:
Wholesale 2B requires you to sign up for a plan, but you don't get charged anything for simply browsing the product database.
How does it work?
Search for certain items and categories. When you find something to sell just post it on your site for people to buy from you.
Once a customer places an order, the Wholesale 2B site takes a commission and sends the product directly to your customer.
Pros:
Access to 1.5 million products!
Several plans to choose from. Selective plans if you intend to sell on Amazon, eBay or your own stores.
Built in eCommerce marketplace integrations with Amazon and eBay.
Real time integration with Shopify, Magento, BigCommerce.
Cons:
You can't contact Wholesale2b by phone or email. You can contact only by raising a ticket, which is quite slow.
Doesn't offer much when it comes to analyzing your sales and performance of the products you choose to sell.
Costs & Pricing:
Their pricing is quite complex as they have too many plans.
Here's a quick look: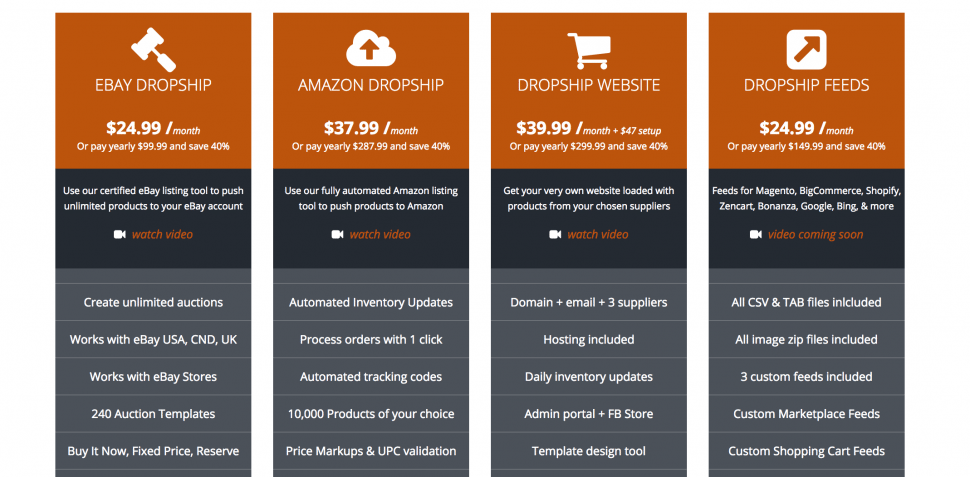 If you want to sell through an online marketplace (eBay or Amazon) then choose either eBay or Amazon plans.
If you already have a website (Shopify, Magento, BigCommerce, Zencart) then you can opt for Wholesale2b Dropship feeds. Dropship feeds will provide you with a data feed of products.
Don't have a website? No problem, Wholesale2b has a plan where it will build one for you.
SaleHoo
SaleHoo has more of a focus on presenting a detailed directory for companies you can partner with for your business.
They have 8,000+ companies in their network that give you access to over 1.6 million products.
All the 8000+ suppliers are verified by the SaleHoo team, so you can trust them for quality and other factors.
Pros:
The best part about SaleHoo is the community around it. SaleHoo manages a routine blog and forum so you can learn and chat with others who are just like you.
You can use the Market Research Lab to find which types of products are more likely to bring you higher profits.
Good support.
Cons:
No free trial, though they have a 60-day money back guarantee.
Training can be overwhelming.
Costs and Pricing:
$67/ year billed annually.
They have recently changed their pricing plan to just one annual plan. It seems to be one of the cheapest in the market.
One plan gives you access to following:
Access to SaleHoo Supplier
Direct access to Market Research Labs
Access to members forum
Personal email support
60-day money back guarantee
Doba
Doba will contact the supplier and send the product to the customers, removing the hassle of managing drop shippers.
Pros
Doba has one of the largest product offerings that aggregate over 2 million products from nearly 200 suppliers.
Immediate access to products from hundreds of suppliers.
Organize lists of products for bulk export to your store or preferred marketplace.
Email updates about supplier discounts, trending and seasonal products, and new suppliers in the categories that matter most to you.
Cost
Doba offers a Basic Package for $29/month.
Their Advanced Package goes for $69/month, which comes with eBay data export and access to elite seller support.
Finally, a Pro package start with $249/month, that is bundled with Amazon data export and batch order updates.
Megagoods
Megagoods is a direct supplier which has simplified the drop shipping model.
They specialize in consumer electronics and video games with more than 45 categories.
It has a large selection of brand names along with fast processing and private label shipping.
Pros:
Cheap, one of the lowest monthly subscription fees.
Despite its low number of products and lack of research tools and other features, this is a low-cost option that could be right if you are interested in specializing in consumer electronics.
Cons:
Megagoods offers far less products. It may be the lowest we have reviewed (2000+ products).
No research tools.
No website integrations, nor is there integration with eCommerce marketplaces or stores.
Costs and Pricing:
Megagoods offers a 30-day free trial and then paid membership at $14.99 per month.
Sunrise Wholesale
Sunrise Wholesale is a service that drop ships products directly to your clients.
You gain access to over 15,000 brand products, and you can search for these products.
Sunrise allows you to export your products — including images and descriptions — to eBay, Amazon and your own website
It even integrates and syncs with Shopify and Big Commerce.
Recently, Sunrise Wholesale partnered with an import company to give it access to a 600,000-square feet warehouse and distribution center.
Pros:
Quick and accurate order processing. Service it provides has been recognized with an A+ award by the Better Business Bureau.
Every account comes with a free eBay Listing Wizard and Research Tool. This makes selling on eBay a cinch.
You also get access to Amazon Selling and Research Manager. This comes handy if you are just starting out.
Cons:
Restocking fee is high. You will be charged a 20 per cent restocking fee for non-defective products that your customers return.
Offers about 15,000 products from 7 suppliers. This may not be enough for you.
Costs & Pricing:
Membership starts from $29.95 per month or $99 annually.
The yearly subscription offers the best value. There are no drop ship fees or minimum order amounts, but you will be charged that same 20 per cent restocking fee for returns.
Sunrise has a free 7-day trial, but you must provide your credit card details.
Oberlo
If you haven't heard about Oberlo in running your drop shipping business then you haven't truly been drop shipping.
Oberlo bills itself as the leading marketplace to search and find products to sell online at your Shopify store.
Their platform for Shopify facilitates drop shipping by connecting merchants with suppliers, who then ship products directly to consumers.
Pros:
Beautiful, modern user interface.
Tight integration with Shopify.
Easy one-click import of AliExpress products.
Free account gives you a taste of Oberlo.
Cons:
Works only with Shopify stores.
No shipment tracking, fulfillment monitoring or multiple users with free account.
Only supports AliExpress for now.
Costs and Pricing:
Oberlo offers an amazing free account but you're limited to 500 products and 50 orders per month.
Paid plans jump to $29.90/month and $79.90/month, allowing you to scale with your sales performance.
You can also do a Google search for "drop shipper" or "(niche) + drop shipper" to find other dropshipping companies.
Key questions to ask a potential direct shipping partner
Partnering with a direct sender is an excellent way to start an online business with minimal risk.
By not having to have a lot of cash to buy wholesale products, you are not risking your money.
You don't have to store any inventory.
And you don't have to worry about keeping up to date with sending products to customers on time.
But that does not mean that you should deliver those essential elements of your business to anyone.
Working with a lousy shipping dispatcher (and they are there) could sink your business before it takes off.
You do not have to enter the search and negotiation process with a possible blind direct shipping partner.
Here are some key questions that can help you determine if they are right for your business.
Once a customer has placed an order, how long will it take to be processed and shipped out of their facilities? (Remember that you can also "buy-in secret" to verify this too)
What shipping methods of the products are available?
This is especially important if they are abroad and shipped internationally.
Do you use services like UPS and FedEx? Can a customer place an order overnight?
This is an important one: do they have a tracking system so that you and/or your customers can see the status of each order easily?
This is one of the most important things that customers want to be able to do.
How do you deal with problems like lost shipments?
You don't want customers to get frustrated with questions you can't control.
And keep in mind that, as a seller, you are ultimately responsible for customer service.
Will lost shipments cost you money?
Do the products you offer have guarantees?
What happens if the customer is not satisfied with the product?
What is the return policy?
Does the direct sender guarantee the product?
What happens if the product fails in some way?
Make sure the direct sender's policies match your customer service philosophy.
If a customer feels that he has taken advantage of you, he cannot point to the direct sender and blame him, because you are the one who sold the product to the client.

It is also a good idea to check the forums, blogs, and social networks to get feedback on the direct delivery company of other online entrepreneurs.
Senders who have a bad reputation or corrupt business practices will be exposed quickly, often in detail so that you can avoid them.
Drop Shipping is one of the easiest online businesses

Direct online shipping business is a quick, easy, and low-risk way to start selling online.
You will not have to put a lot of money in advance in the inventory that you might not sell.
Your direct shipping partner will take care of all deliveries to your customers.
Choose the right niche and product, and you could have a profitable company in your hands. It could even expand to other niches and sell other products, too. Please spread the word!